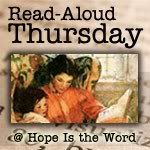 So, I know yesterday was Groundhog Day, but here are two books to consider for next year ...
Gretchen Groundhog, It's Your Day
.... A cute book. Gretchen is the newest Groundhog Day prognosticator. She is very nervous about "Going Out" as is her family tradition. The town's historian brings a box of journals that show all of her ancestors also being afraid. She is encouraged and continues on in the tradition. It is a sweet story. It has a nice introduction explaining briefly possible origins of Groundhog Day.
The Groundhog Day Book of Facts and Fun
... There is quite a bit of good information and some ridiculousness in this book. The chapter on the history of Groundhog Day and Candlemas was worthwhile and very readable. The other chapters had good information, too. I was disappointed that the author thought silliness was necessary to get children interested on some of the other pages (playing with Groundhog names and such, dumb little jokes) It is one I'll read parts of, but not necessarily let the children peruse on their own.